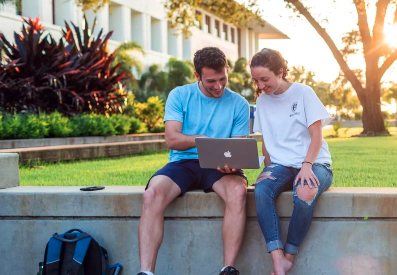 NEW FREE WEBINAR SERIES!
Ave Maria University Academic Spotlights
Admissions and Academics at Ave Maria University are now offering a series of FREE webinars with our faculty, each focused on a specific major. A
t Ave Maria University, you will find Joy in the Truth. You will be challenged academically, grow in your faith, and make lifelong friendships in a community that supports you on your journey.

Tue, Jan 17, 7pm: Biological Sciences

Featuring Dr. Stephen Wirick and Dr. Agnes Berki
Biology students discover that the natural sciences are not simply technological disciplines but are truly liberal arts by which we seek to know truth for its own sake. You'll gain fundamental knowledge of biological systems at the molecular, organismal and ecological levels while discovering a deep sense of wonder at the natural universe.
Thu, Jan 19, 7pm: Elementary Education
Featuring Dr. Abigail Fuller
Chair of Education Department
The Elementary Education major at AMU is based on our liberal arts core and will give you a deep knowledge of all key academic disciplines. In this major, you'll examine the field of education, learn current best practices, and exceed state licensing and preparation requirements. At AMU, you'll get everything you need to reach even the most at-risk students.
Mon, Jan 23, 7pm: Computer Science
Featuring Dr. Saverio Perugini
Professor of Mathematics & Computer Science
The Computer Science minor aims to establish an understanding of the timeless and fundamental principles underlying computing, while developing strong problem-solving, analytical-reasoning, and computational-thinking skills. This program fosters the view of computing, including the mathematics associated with it, as part of God's creation.
Thu, Jan 26, 7pm: Theology
Featuring Dr. Michael Dauphinais
Chair of Theology Department
In the Theology program at AMU, dive deep into God's supernatural revelation to us found in Scripture and the living Tradition of the Church. Discover the profound harmony between faith and reason while also growing in your relationship with the Blessed Trinity. Study how God's plan of salvation unfolds from the beginning of the human race, culminates in the death and resurrection of Christ, and is carried on through the Church until the end of the world.